Sniper Kitten Purrs in Derby
|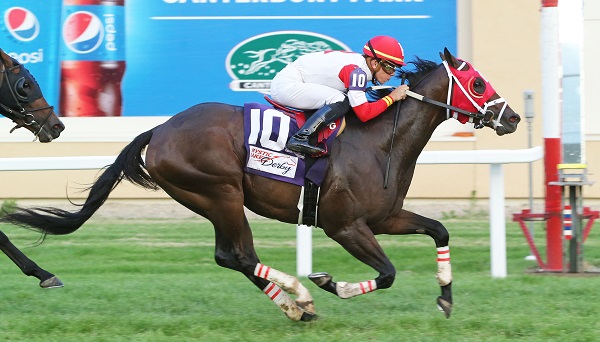 By Jim Wells
Trainer Mike Maker has been bringing horses to Canterbury Park the past several years.
For stakes races.
He ships in and cashes in….sometimes running against horses that appear to have more talent.
That wasn't quite the case in the richest race of the season on Saturday night, the $200,000 Mystic Lake Derby. Sniper Kitten, as a matter of fact, was sent off the second choice in the 14-horse field under the upstart Tyler Gaffalione, a 23-year-old reinsman who has been riding a mere three years. Gaffalione and Maker had teamed up earlier to win the $100,000 Lady Canterbury, too.
Appearances and opinions are sometimes put to rest quickly on the racetrack, as they were in this case. Sniper Kitten, with a mere two wins from three career starts, the last in allowance company on April 27 at Keeneland, was running against stakes winners in this field.
Gaffalione's chief concern was saving ground along the rail in the 14-horse lineup, without allowing his horse to get pinned in or shuffled back.  He accomplished both, and had plenty of horse when needed for the stretch drive.
Sniper Kitten, sent off at 7/2, finished a length in front of Nobrag Justfact, conditioned by local trainer Eric Heitzmann and sent off at 42-1. It was another half length back to Captivating Moon, the 5-2 favorite.
Gaffalione was aboard the Maker-trained I'm Betty G (6/1) in the Lady Canterbury, and guided her to a 1 ¼ length victory over Sirenusa (2/1), who finished a head in front of Sailor's Valentine (8/1).
"I tried to slow her down, but she threw her head at me, so I let her do her thing," said Gaffalione. "It's nice to ride a horse like that."
And it's nice, he said, to show up at a racetrack and win two races with purses totaling $300,000. "Not too bad. Pretty nice," he said.
After Maker's second big score of the day, in the Derby, it was suggested that he open a small savings and loan in, say, Shakopee, so Canterbury could do a direct deposit whenever he comes to town.
The Lady Canterbury started the run of five consecutive stakes races. Next up was the $100,000 Mystic Lake Mile and a Canterbury-based rider, Hugo Sanchez, cashed in aboard My Bariley in a wide open 11-horse race.
Sanchez was the sixth rider aboard this horse in the last six races and plenty confident on the turn. "I had a ton of horse at the quarter pole," he said. "A ton of horse."
My Bariley stretched out in the stretch drive to finish ½ length in front of Hay Dakota, the defending champion in the race. Majestic Pride was next, 2 ½ lengths out of second.
The story of the day, however, was reserved for the $50,000 Dark Star Cup and a 12-1 outsider named Creative Art.
Trained and owned in partnership by Shawn Davis, Creative Art had to await the outcome of a jockey's objection before he was declared the winner.
A wait that seemed interminable to Frank Bemis, who owns the horse in partnership with Davis.  It had already been a long weekend for Bemis and his wife Connie, who were headed to Canterbury from Iowa when they were involved in a car crash near Windom.  They were t-boned in an intersection, an accident that totaled their new Lexus.
Connie and Frank spent the night in the hospital. Davis drove from Shakopee  on Saturday and picked them up so they could be present for the race on Saturday.
"The air bag went off and saved my wife's life," said Bemis. "We were fortunate."
They were fortunate, to a lesser extent, later in the day, after the Dark Star Cup. Bemis, bruised and cut on his arms and face from the accident, reacted with glee when the announcement was made clearing his horse and rider, James Graham.
Puntsville, the 8/5 favorite in the final stakes race on the card, the $50,000 Hoist Her Flag, cruised to a one length win under Carols Marquez, Jr., with Shar Ran in second by a nose over Thoughtless.
The card was part of a day billed as the Mystic Lake Northern Stars Racing Festival and included several exhibits and jockey autograph sessions to help race money for disabled riders in the sport.
Race eight, dubbed the Jockeys and Jeans Jockey Challenge matched a number of previous Canterbury champions as well as current riders and included Hall of Fame rider Edgar Prado, who rode Superstar Bea, the winner, for trainer Mac Robertson. Other Canterbury riding champs included Ry Eikleberry, Leandro Goncalves, Jareth Loveberry, Dean Butler, Scott Stevens and Luis Quinonez.